News and Publications
Opinions in the cases listed below were filed by the U.S. Court of Appeals for the Sixth Circuit:
Books
Tennessee General Session Handbook

Introducing the crucial new guide for presiding over and practicing in Tennessee General Sessions Courts: Tennessee General Sessions Handbook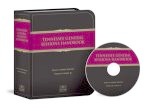 From the publisher of Tennessee Attorneys Memo, this essential reference was created by General Sessions Judge G. Andrew Brigham and Nashville attorney Thomas B. Norris, Jr., to assist judges and attorneys who practice in Tennessee's general sessions courts. Packed with more than 500 pages of valuable advice on procedure and policy, the Tennessee General Sessions Handbook covers both civil and criminal sessions, and includes a BONUS CD-ROM loaded with forms and a searchable index.



White Papers
Frank Wolpe's White Paper: A WHITE PAPER ON EXECUTIVE ACTION TO RESTORE TRUST IN THE INTERNAL REVENUE SERVICE BY REBUILDING FIELD OPERATIONS (2014).
This White Paper examines fallout from Internal Revenue Service missteps and offers a proven proposal for organizational restructuring and reform by executive action. By now, most agree the Service needs to restore public trust and be turned around – not necessarily to be a beloved tax collector, but to be universally respected for its sense of fair play, independence and competence. For change-makers to make a difference, they will have to think differently. Rebuilding field operations is a place to start.

Fact Sheet on Frank Wolpe, ESQ., CPA, EA
Published Opinions
Jelovsek v. Bredesen
Eastern District of Tennessee at Greeneville